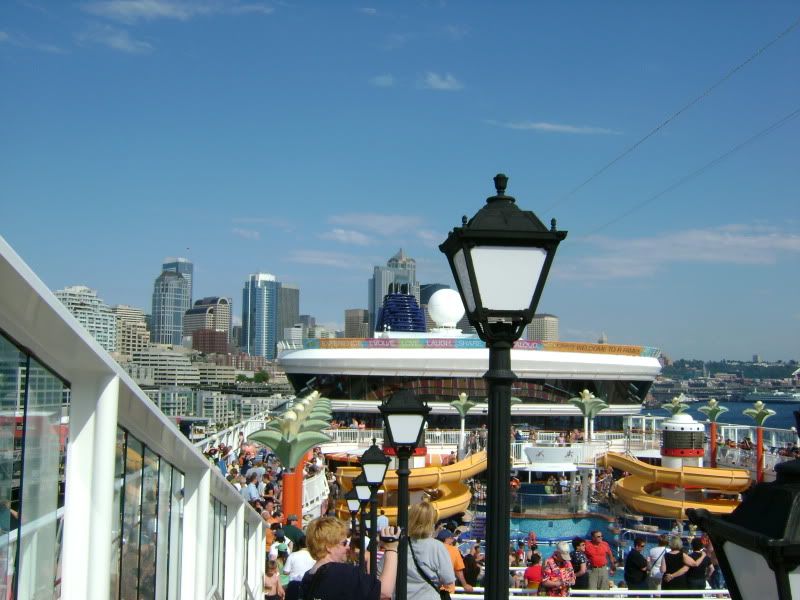 We've never been on a cruise before, so you can understand how awestruck we were by the Norwegian Star. 14 decks, 2 pools (plus slides and some hot tubs), over a dozen restaurants, a movie theater, a game room, etc...
Our cruise was round trip Seattle, with 2 "sea days" to rest and relax.
First stop: Ketchikan
. The southeast peninsula of Alaska is a rain forest, getting over 140 inches of rain a year. Its also surprisingly temperate (well, if by temperate you mean not frozen...its chilly year round). Given this was our belated honeymoon, we decided to spring for awesome excursions. First up: Ziplining in the canopy! 8 zips through the trees, a few hundred feet up in the air, for as long as 800 feet at a time (well over a minute of free fall...er...slide). There were also three suspended bridges. Needless to say, Princess Charming had the camera the whole time, as I had my hands full holding onto cables (yes, we were triple clipped onto the cables, but its still nerve racking to be on a 10 ft diameter platform 300 feet off the ground with 9 other people!)
Next up: Juneau.
This Alaskan capital is only accessible by boat and plane, unless you're up for a longggg hike across one of the biggest glaciers in populated territory! Our sea (very calm bay-like sea!) kayaking trip gave a great view of the Mendenthal Glacier, the 6000 ft snow capped peaks, about half a dozen bald eagles, some jumping fish!, and a seal!
We went back to the boat a bit early for lunch, so my one regret of the trip is not walking around Juneau more.
Next stop: Skagway.
Darling little town of 750 people. The National Park Service has done (and is doing) some excavations and has set up a little museum. The town was a key supply stop for the Yukon Gold Rush around 1900, so it has historical significance (especially when you think about how important the Gold Rush was to the development of the Pacific Northwest cities!).
Here we did a ride on a historical rail up into British Columbia, CA. I have no idea how this track was laid or how the miners made it - the end of this 25 mile train ride is several thousand feet up (and they mostly walked it up a 1 man wide path, 25-30 times to get their 1000 lbs of gear up!) and gets 40+ feet of snow in the winter with cold we don't want to think about!
We took a bike ride back down the Klondike Highway, including a pit stop to refill our water bottles from a 38 degree glacier fed waterfall.
After that, the boat turned south for our
Inside Passage cruising
and a stop at Prince Rupert (I imagine there's nice hiking there, since its a good sized terminal...and had a cute passport stamp...but we didn't do much there). The ice flows were so heavy on the normal route we couldn't go and had to take an alternate way. Really quite impressive. Besides a few more glaciers, we saw several seal families with their pups hanging out on the flows (oh, to have a digitial SLR with good zoom!).
And, alas, after another sea day, lots of good entertainment, several games of Scrabble (and Princess Charming's 83 point point word 'Blunder'), all good things must end.