For the past couple of weeks, we've been doing a facelift on our bathroom (
part 1 - demo
,
part 2 - plumbing & tub tile
,
part 3 - fixtures & walls
,
part 4 - reinstalling
).
This weekend, we did the finishing touches- new paint, hardware, and a shower curtain!
Here's the before: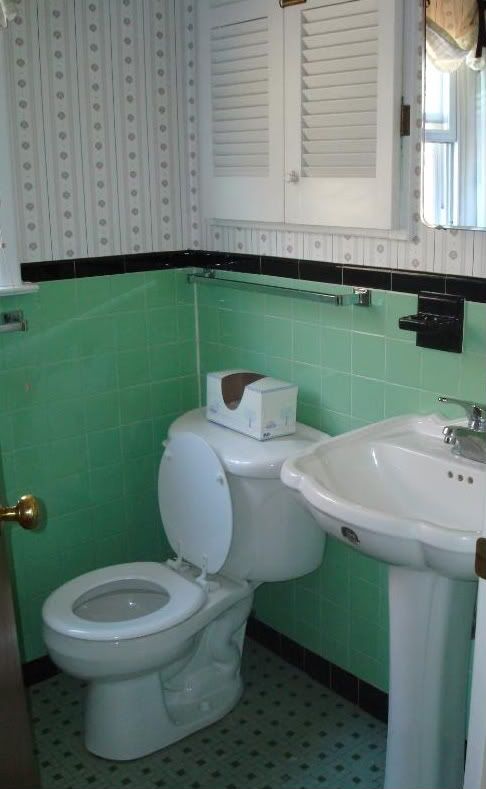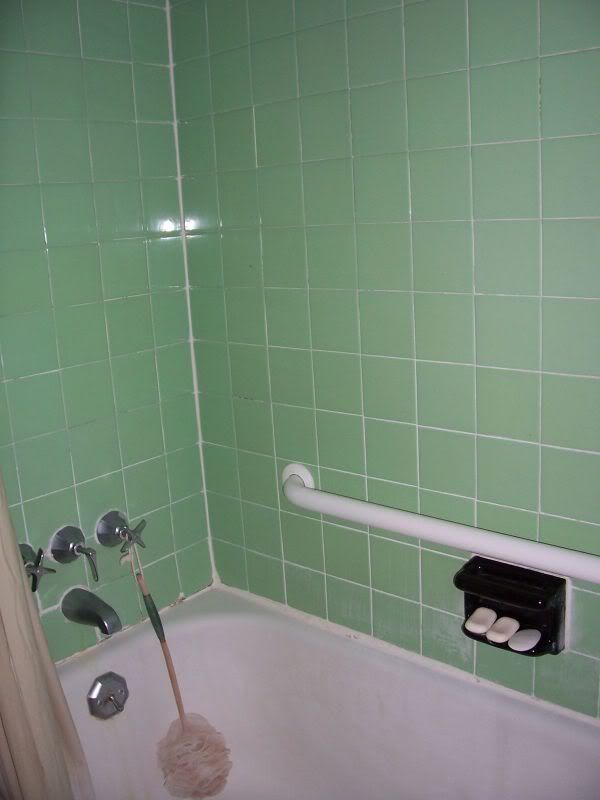 And here's our afters!!
Re-tiled shower, new fixtures, and new curtain!
We added a line of subway tile amid the 4x4 squares for visual interest, kept original black border to add some vintage flair, and got a new vertically striped shower curtain to add height to the room.
New flooring, beadboard to replace more awesome green tile, and new towel racks & toilet paper holders!
More beadboard...and the medicine cabinet is also original (the smallest options at the hardware store were too big!).
Our budget for the bathroom was $500. We didn't need to replace the toilet or sink, we have tile-tools from our kitchen
facelift
, and we borrowed my dad's wet saw, so we thought it was doable.
And it was!! We came close to blowing it since we needed a new TP rack and "stuff" rack for the shower, but I found them on sale for under $20 each at Target, as well as a new shower curtain for $20 less than
this one
that I love (but lucky for our budget, doesn't quite match the paint we
picked
recycled from our bedroom.)
Hardware/Accessories:$97.70
Plumbing: $127.94
Tile: $109.50
Flooring: $55.45
Walls: $103.93
Total: $494.52
WIN!