OK, not really.
But we did update the dining room! Via the chairs!
Old cushions - amazing ivory-on-peach polka dots:
Our house was an estate, so we made a deal with the seller to keep some of the furniture - less for them to deal with, less stuff we needed to buy...we ended up with a pretty decent dining set and a fairly worn out bedroom set (which we'll be using for a while), as well as a (1981) living room set we donated to charity (well, charity in the form of my rugby team's fundraiser yard sale!).
Anyway, as you may recall from our
den
, the previous owners liked the match the furniture to the curtains. And last decorated around 1974, when the original owner got remarried (we learned this from his first wife, who was, oddly enough, the executor of the estate).
Edith (that's what I am calling Wife #2) must have really loved this peach polka dot fabric. Besides the dining room chair, there were throw pillows in the living room, a curtain on the back door, and SERIOUS window treatments in the living and dining rooms made out of it.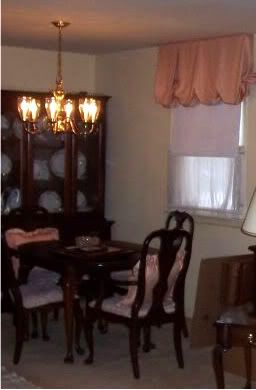 The dining room set that came with the house...plus all the lovely peach polka dot fabric!

You can also see the heavy valence - the top of that sucker was wood! - the living room had that plus full matching curtains...

18 months later, we are peach-polka-dot free!
I actually kind of like these chairs now, thanks to the handy work of Princess Charming and my mom!
It might help that paisley is my FAV!
Isn't that pretty fabric for $8/yard cotton?