Since September is here, time is of the essence. We both work full time, Princess Charming does a 90+ mile one way commute 2-3 days/week (and is away for work the other ones), we both coach club sports, and I am taking two doctoral classes and playing rugby. We, clearly, are
insane
time pressed.
So we've decided to expand our Cooking-For-The-Week into Cooking-For-The-Month. This month is kind of an experiment for us. In the future, we'll need to be a little more careful about recipe sizes. I think we have enough though, and it should help keep our food bill down since we'll have plenty of lunches and dinners - less excuses for unplanned eating out. Everything we made is relatively low in fat and includes something from our garden too!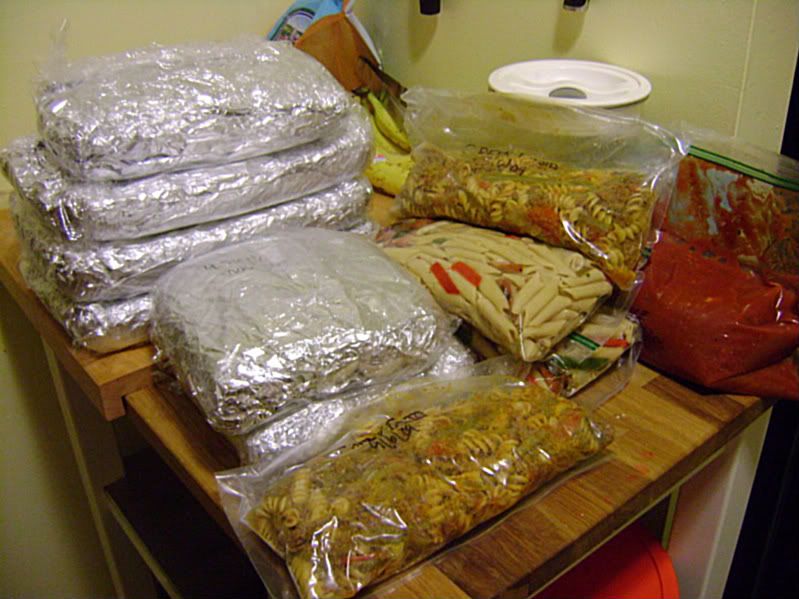 Big trays:
2 meat lasagnas (How is lasagna low in fat? Drain meat well and go easy on the cheese...and sub in cottage for ricotta (sad, and my nana is turning in her grave, but healthier - so I don't feel too bad about the AMAZING fresh parm on top!)
1 veggie lasagna
Small trays:
2 chicken, bean and cheese enchiladas
1 cheesy pasta
Bags:
2 Greek Pasta (ground beef, green beans, onions, and tomatoes in pasta...with Feta!!)
2 Turkey Kielbasa and Peppers in Pasta
(and some extra sauce, oops)
Not pictured:
Greek pitas (a massive bowl of shredded chicken breast mixed with homemade tzatziki sauce with cucumbers and tomatoes to be (carefully) eaten from a pita pocket).
Total time: about 7 hours with prep and finishing up. I think we'll come out ahead, since our weekend cooking is usually 2-3 hours!